History & Heritage
La Casa del Ché: The Home of Ché Guevara
Ché Guevara's La Casa del Ché in Havana
Photo: Shutterstock
Feel the Remnants of Ché Guevara - the Legendary Liberator that Inspired Generations
Ernesto Guevara de la Serna, better known as "El Ché," is one of the most important and symbolic figures during and after the Cuban Revolution. His likeness has become synonymous with revolutionary grit. It has transcended from his iconic heroism into a pop culture phenomenon whose image is used on everything from coffee mugs, ceramics, and pullovers - to statues, iron busts, and murals worldwide.
A visit to the Centro Socio-Cultural Casa del Ché becomes an unforgettable experience for those who admire the Argentine and gives you a better perspective of his first years of the Cuban Revolution. Read along and get a one-on-one tour of this interesting site with rich historical value into the life of Ché Guevara.
Becoming the Leader of a Revolution
You wouldn't guess from his stoic persona and social ideology, but El Ché Guevara was born into an upper class aristocratic family in the city of Rosario, Santa Fe, Argentina. He studied medicine in Buenos Aires, and would employ his medical knowledge across South America. It was during these travels, most notably documented in his famous Motorcycle Diaries, that he would develop and solidify his ideas and philosophies.
Upon fleeing to Mexico due to persecution in 1954,  Che Guevara met with Fidel Castro and ultimately joined his rebel army as a medic aboard the iconic Granma vessel used in the assault at Los Cayuelos, Cuba. Immediately after, Fidel, Ché, and the rebel forces set up an encampment in the mountains of Sierra Maestra, where Guevara would quickly rise through the ranks for his tactical prowess and natural bravado. As commander, Ernesto Guevara led guerilla forces to take Havana in 1959.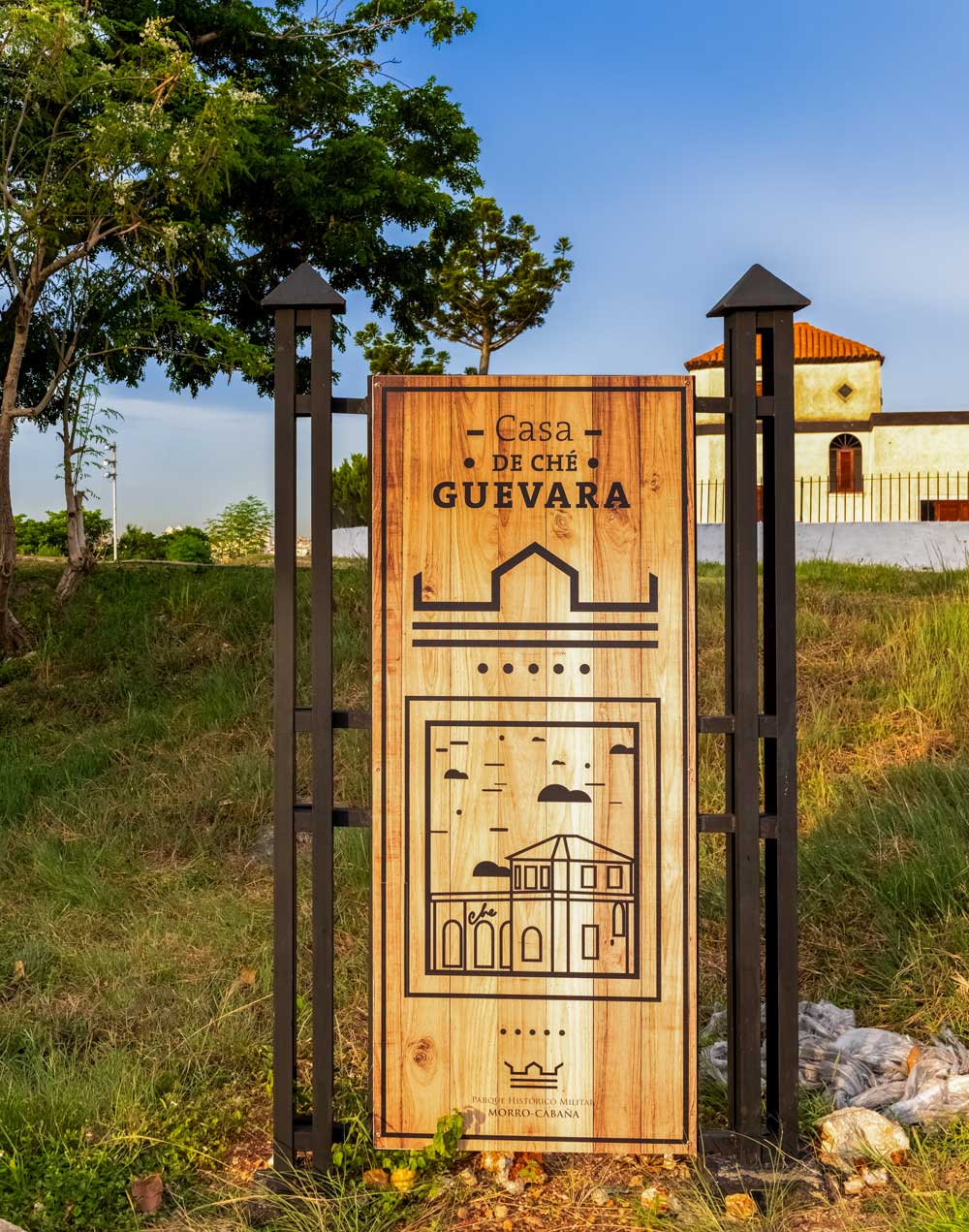 La Casa del Ché museum, Havana
Photo: Shutterstock
Museum Origins
The Casa del Ché was initially constructed during the 1940s as the official office and residence of the Chief military officer of the Fortaleza San Carlos de la Cabaña fortress. By January 3, 1959, he was replaced by Ernesto Guevara as the Military Department's Commander at La Cabaña.
After his death, the home was declared an honorary museum for the Argentinian freedom fighter in 1970 and was integrated with the Parque Historico Morro Cabaña in 1989. Finally, in October 2007, the residence was inaugurated as the Centro Cultural Casa del Ché.
What to find in Casa del Ché
Upon entering the museum, turning to your left, you find the office of Che Guevara, where the daring guerilla warrior planned and commanded attacks in the fight for Cuba's independence. Here you'll see his desk, phone, and other objects used during meetings with his high-profile associates: Fidel Castro, Alberto Castellanos, Olo Pantoja, and Ramiro Valdez.
A bit further ahead is the hall of expositions where some of the leader's artifacts are showcased, like his boots, briefcase, knife holster, and camera - all of which were from his time at Sierra Maestra, Cuba, and Bolivia. The rustic aspects of his personal items highlight the harsh life of a real guerilla warrior, leaving little imagination for legendary romanticism.
Continuing to move throughout, the museum has a chronological layout of El Ché's life and times at the home, framed pictures of past visitors, and historical events line the walls for an in-depth look at the man behind the legend. Some rooms were specifically for reading and playing chess (a passion of El Ché), dining, and recreation. Today, the museum has a souvenir shop and a terrace that overlooks the impressive bay of Havana.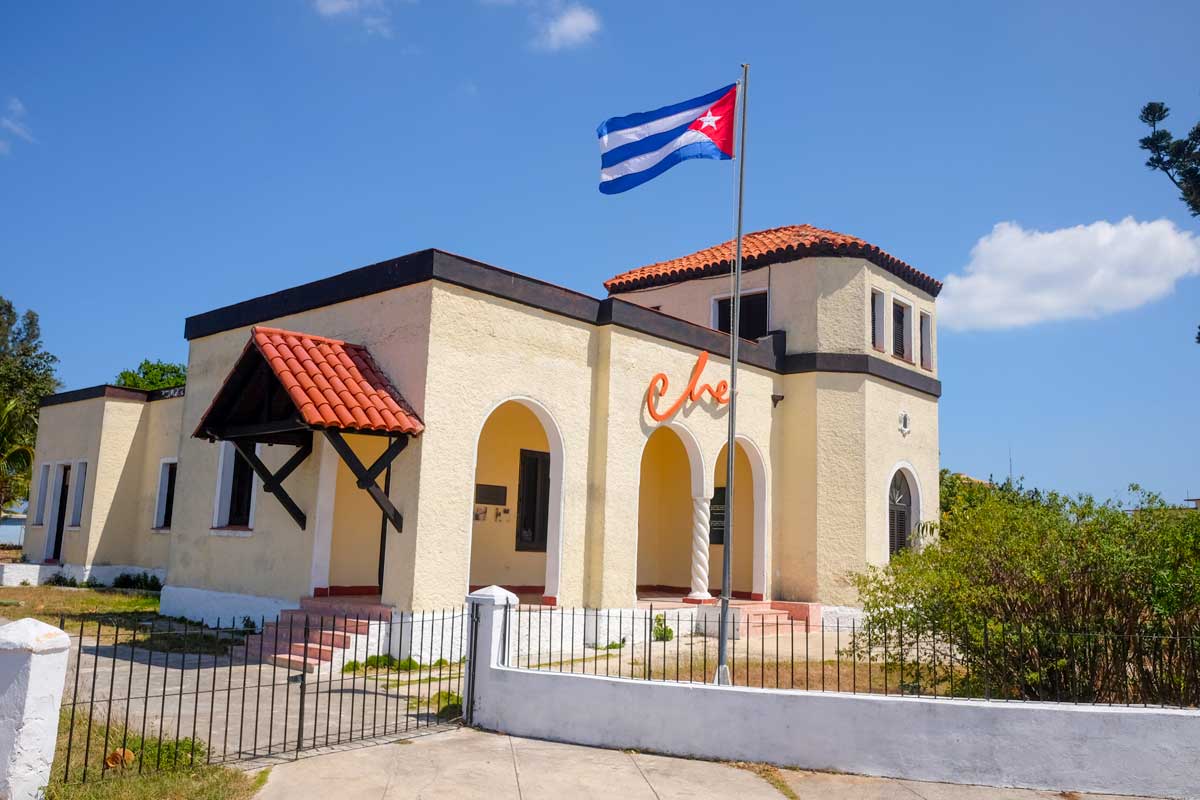 Flag pole at Ché Guevara's house in Havana
Photo: Shutterstock
What to know before you go
Entrance to the Museum is 200 Cuban Pesos, located just in front of the Cristo de la Habana statue. You can get there by crossing the Bay of Havana by taking the Casablanca ferry, and once across, it'll be just a short hike uphill to the museum.
Another practical way of getting there is by car rental or taxi, but if you want a whole city experience, take public transport through the Havana Tunnel. Upon exiting the tunnel, you'll only be a few hundred meters from the museum. La Casa del Che is open every day from 10 a.m. to 7 p.m.
One important note to jot down is to not confuse Casa del Ché with the Comandancia del Ché Museum inside of San Carlos de la Cabaña fortress - although they are both part of the Morro-Cabaña Historic Military Park.
Written by Javier Montenegro.

Published January 2022.
Five of the Best Beaches in Cuba
Looking for a quick getaway or an island escape? We've rounded up a list of the best beaches for you to kick your feet up, relax, and enjoy the best Cuba's coasts have to offer!
Playa Ancón beach near Trinidad
Photo: Shutterstock
Explore Cuba's History & Heritage
Subscribe to our newsletter
Get more travel inspiration, tips and exclusive offers sent straight to your inbox