Beaches & Islands
Tarará Beach - Havana's Best Kept Secret
Tarará Beach
Photo: Shutterstock
Deep in the heart of the Caribbean, Cuba is blessed with over 400 beaches that run along over 5500km of stunning coastline. And when we say beaches, we're talking the real deal: Crisp turquoise water that laps against sun-kissed shorelines, dotted with towering palm trees and windswept grasslands; soft, velvety sand that flutters as it meets a swirling sea-breeze; radiant sunshine hovering in an infinity of blue; echoes of distant musical timbres as waves edge rhythmically towards the land.
But there's one spot just outside Havana that often goes under the radar and is the best beach if you're looking to escape the crowds without having to travel too far outside of Cuba's capital.
What makes Tarará special?
At Tarará beach, you'll discover a wealth of natural beauty as well as a fine selection of restaurants, bars, and convenience stores. Yet, you won't find the intensity (or the prices) typical of a busy tourist resort.  Instead, Tarará has nurtured its tranquil village-like atmosphere, where it offers a peaceful alternative for divers, swimmers, and anyone looking to heal their spirits from the bustle of 9-to-5 life.
So if you're planning a trip to Cuba, take a moment to learn about one of Havana's best-kept secrets – or take a couple of days to renew yourself on its shores.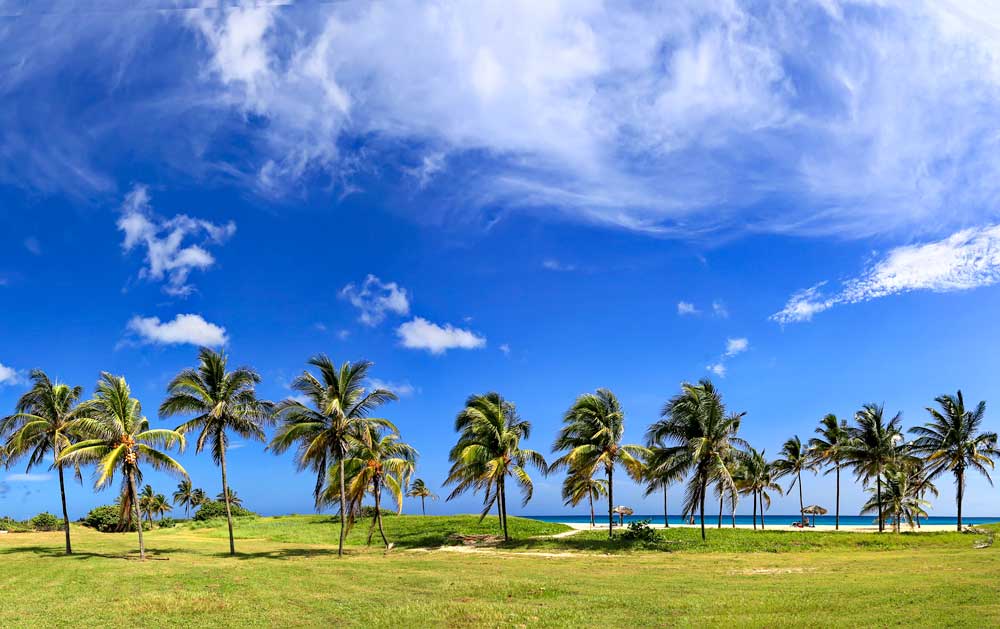 Tarará Beach
Photo: Shutterstock
Things to do at Tarará beach
Before we tempt you with another itinerary of activities, let's start with the basics of beach life philosophy:
This tropical setting is a beautiful spot for a bit of downtime after a busy sightseeing schedule. Grab yourself a beach lounge chair, get a playlist going on your portable speakers, and keep an eye out for the beach sellers who will happily bring you a fresh coconut topped up with rum.
Too hot? Take a dip in the gorgeous turquoise water. Hungry? You'll find delicious fresh seafood just minutes away. Restless? Take a walk to the nearby yacht club and listen to the stories about all the foreign dignitaries and refugees who sought shelter at Tarará before you.
With all of that in mind, if at any point you fancy exploring beyond the shade of your palm tree, a hundred meters to the west of Tarará beach lies the Marlin Marina, a hub for marine activity in the area. This is the easiest place to book scuba diving tours, aquatic bicycles and catamarans.
The opportunity to tour the eleven kilometers of beachfront from the water is an excellent way to appreciate the natural beauty of the coast. Just be careful to stay close to the shoreline! Island currents are strong and can be hard to spot – you can easily drift within sight of Miami with nothing more than a catamaran and epic sunburn.
If you prefer to keep your feet dry, you can also arrange walking tours and excursions along the coastline. Far from demanding hikes, these short treks are a great way to stretch your legs before lazing on a beach lounge chair. Yet, they'll still offer a chance to spot some of Cuba's coastal birds, such as Pelicans and the Piping Plover, a small, well-camouflaged bird that migrates to Cuba during the North American winter.
Tours are available in English and Spanish throughout the day; however, we suggest that you get started in the morning as early afternoon temperatures can shoot well over 30 degrees.
Grab a bite to eat
Just moments from the beach, you'll find several restaurants and other eateries dotted among the villas and stores. It's here you'll dine with a subtle scent of sea air in a setting striking pre-revolutionary Baroque architecture and stunning natural beauty.
We suggest you take a break from the midday sun and treat yourself to some of the finest and freshest seafood on the planet, such as camarones (succulent shrimp seasoned with chili powder), pargo (a giant fish filet grilled on a smokey barbecue), or bacalao (slow-cooked fish in a red pepper broth with thin slices of potato).
Ask restaurant staff for their recommendation, and your dish will be guided by the day's catch, sold to the restaurant by fishermen who cast their nets just a few hundred meters from the shore.
All of these options come with a hearty serving of rice, beans, platano, and a side salad, so be sure to give yourself a good hour to relax after eating before you head back into the crystal waters.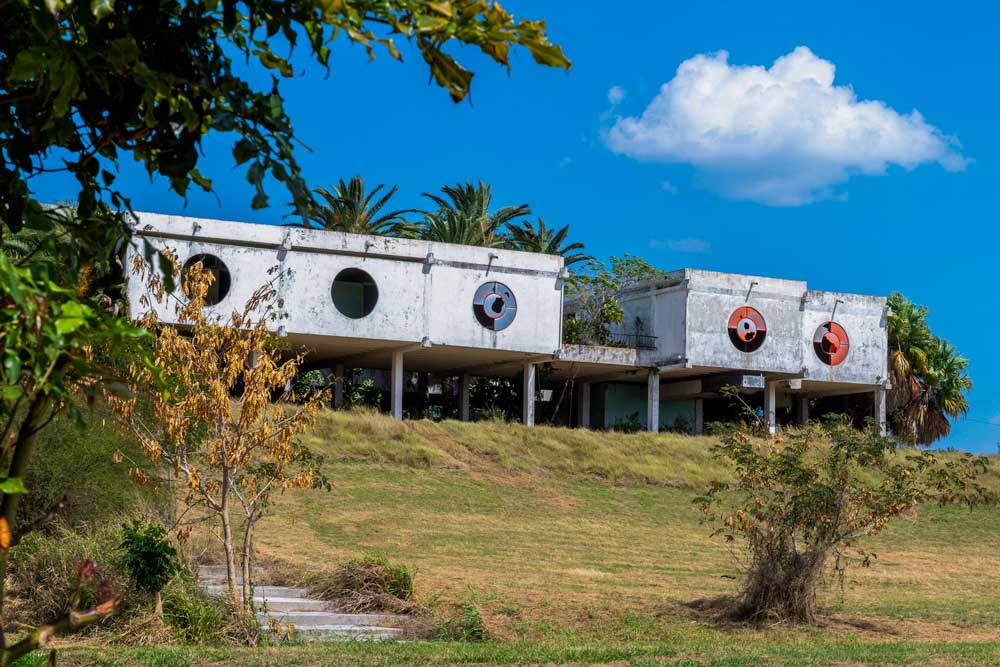 Abandoned building at the Tarará village compound
Photo: Alamy
A beach with a backstory
Aside from its striking natural beauty, Tarará beach offers visitors the chance to glimpse into various moments from Cuba's recent past thanks to a curious blend of architecture and urban design.
First developed in the 1940s, the village-like setting was heralded for its exclusivity and boasted private lodging, a yacht club, a church, a movie theater, and numerous stores, all of which added a modern twist to Havana's neoclassical features.
Following the Cuban Revolution in 1959, the area was later transformed into a camp for elementary school students, which brought with it the arrival of Soviet symbols, murals, and propaganda. Later on, the area became popular among foreign ambassadors. After the Chernobyl nuclear disaster, the area welcomed Ukrainian children who needed extended treatments for nuclear exposure.
How to get there
The easiest way to head to Tarará beach is via private transport.
While in Havana, we suggest downloading the La Nave or Bajanda apps on your phone. These are local rideshare apps that will allow you to organize private transport for small and large groups 24 hours a day. A one-way trip to Tarara beach takes around 30 minutes from Old Havana and costs 15 USD.
To ensure you're not left flagging down a taxi in your swimming gear, we also recommend arranging a pickup time with your driver so you can enjoy a Caribbean sunset without the worries of having to find your way home.
Alternatively, you can also hop on the 400 bus that begins its route just in front of Old Havana's train station. The service costs less than 1 USD; however, it will require a bit of patience as certain routes run more frequently than others.
Written by Gabriela Rey.
Published October 2022.
Five of the Best Beaches in Cuba
Looking for a quick getaway or an island escape? We've rounded up a list of the best beaches for you to kick your feet up, relax, and enjoy the best Cuba's coasts have to offer!
Playa Ancón beach near Trinidad
Photo: Shutterstock
Subscribe to our newsletter
Get more travel inspiration, tips and exclusive offers sent straight to your inbox