Getting Around
How to Get Around Cuba with Public Transportation
Bridge over the Yumuri Valley between Havana and Matanzas
Photo: Shutterstock
Learn the ins-and-outs of getting out and about in Cuba!
Transportation in Cuba is a complex subject for Cubans and visitors alike. So, knowing what your best options are and how best to maneuver your way around the island is an essential step before traveling.
It's important to know firsthand that transportation costs in Cuba may change from one day to the next because of the constant fluctuation of the USD and EUR in Cuba's market - resulting in a very low percentage of Cubans that actually use the government's exchange system. For this reason, many transport agencies prefer to charge in foreign currency instead of the Cuban peso (CUP).
Before boarding your flight, here are the essential tips for learning about transportation in Cuba.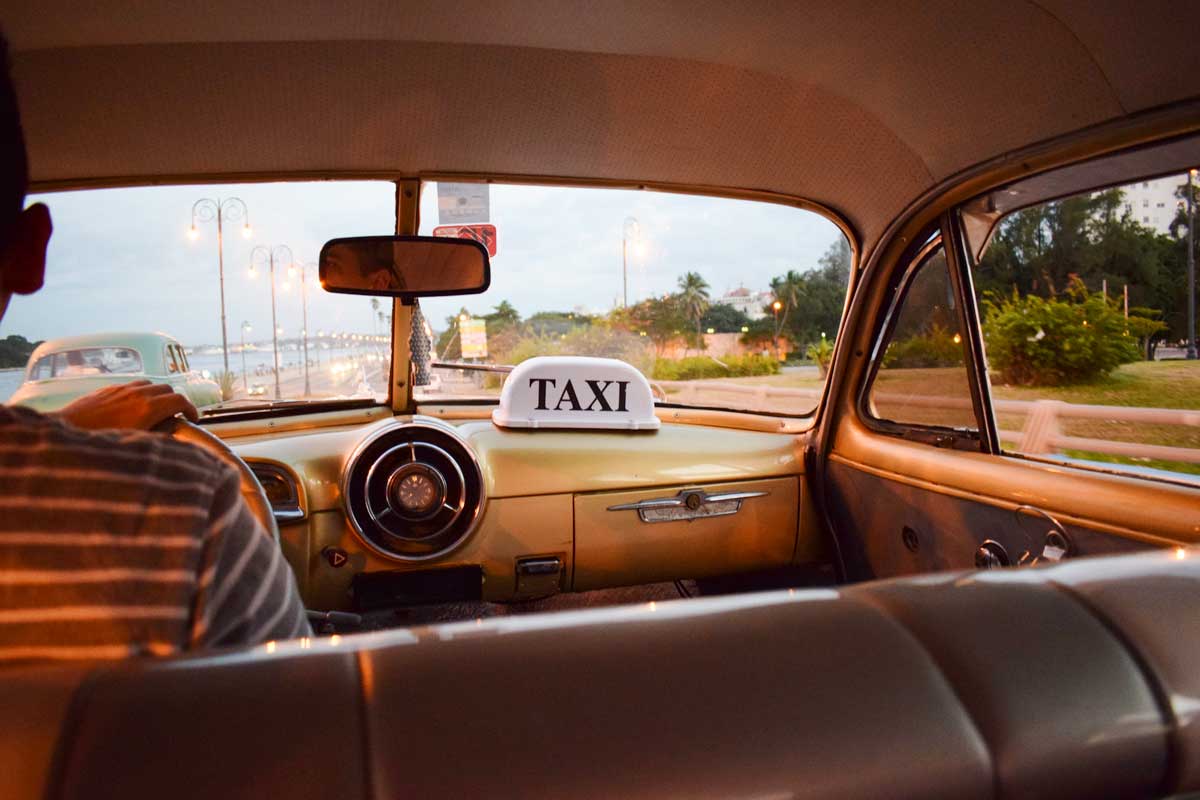 A taxi in Cuba
Photo: Shutterstock
Airport transfers when arriving in Cuba
The vast majority of travel packages to Cuba include free transport from the airport to your hotel or resort. Now, if you decide to rent out a Casa Particular (homestay) or hostel, your patrons can arrange a personal urban taxi in Cuba, which charges around US $15 to US $20. Much cheaper than taking a random cab from the airport. But if you have no previous arrangements, you can always head to the Ministry of Tourism offices on-site, and they'll assist you with finding a suitable taxi - and if you're traveling in a group - they might also have entire buses for rent.
The other final option is taking an official Yellow Taxi, which will cost you a bit more. For example, a 20-minute trip from the Jose Martí Airport in Havana to the capital city can cost US $30 or more. Depending on your negotiation skills.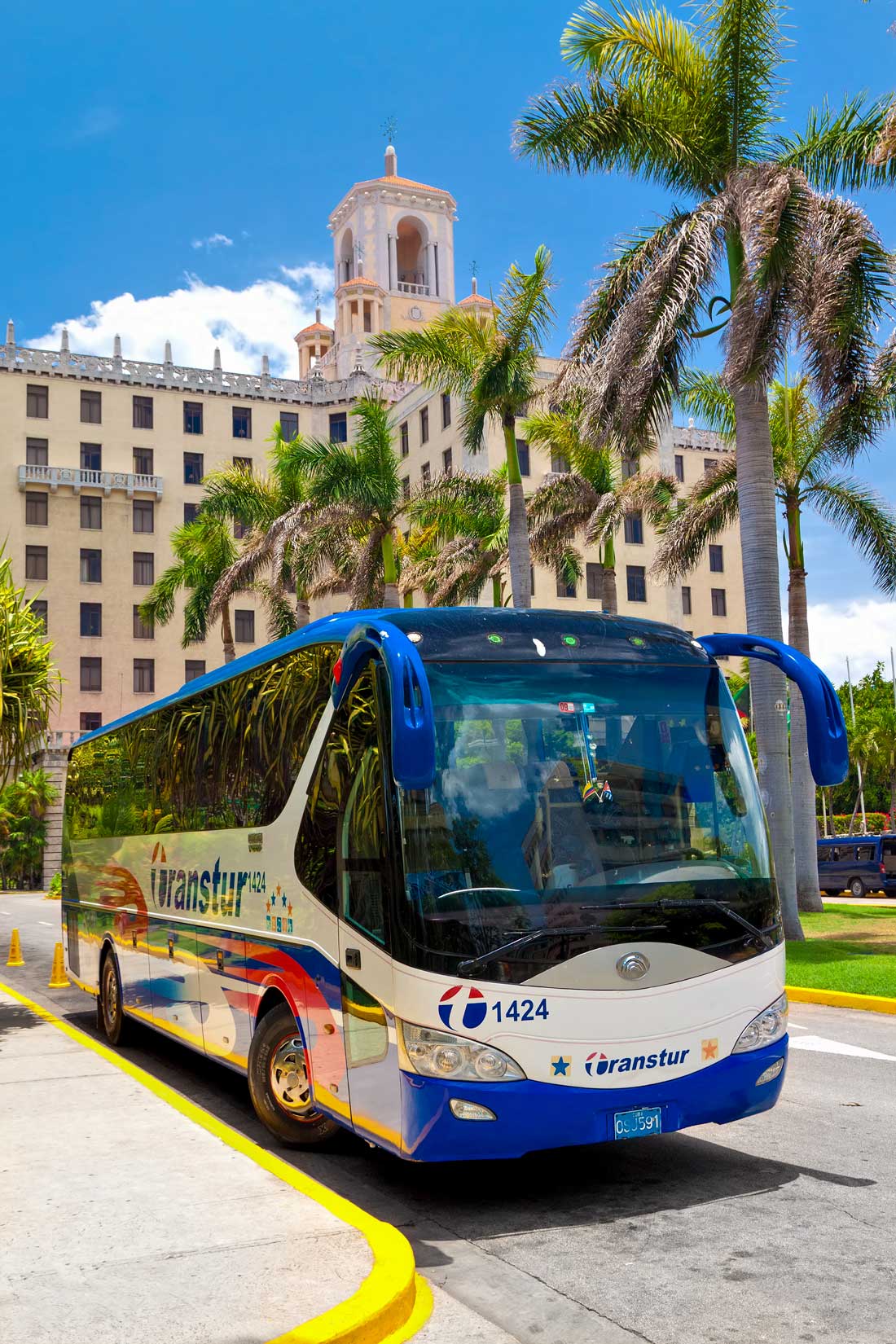 Bus in Havana
Photo: Shutterstock
Viazul: Traveling in Cuba by Bus
Viazul is a trusted network of air-conditioned tour buses that provide transport to every province in Cuba. To reserve a seat, the best option is to purchase your ticket online with anticipation, as official ticket booths frequently tend to sell out fast. Keep in mind that although you are buying your ticket online, you will still have to check in at the official booth to exchange your digital ticket for a physical one. If not, your ticket might be sold off to someone else.
Their prices are fair, with a 16-hour trip from Havana to Santiago de Cuba for less than US $60 per person. Cuba is the largest country in the Caribbean, so travel time between destinations can take a while - but fortunately, Viazul buses have a mandatory 20-minute stop every 2 hours for snacks or bathroom breaks.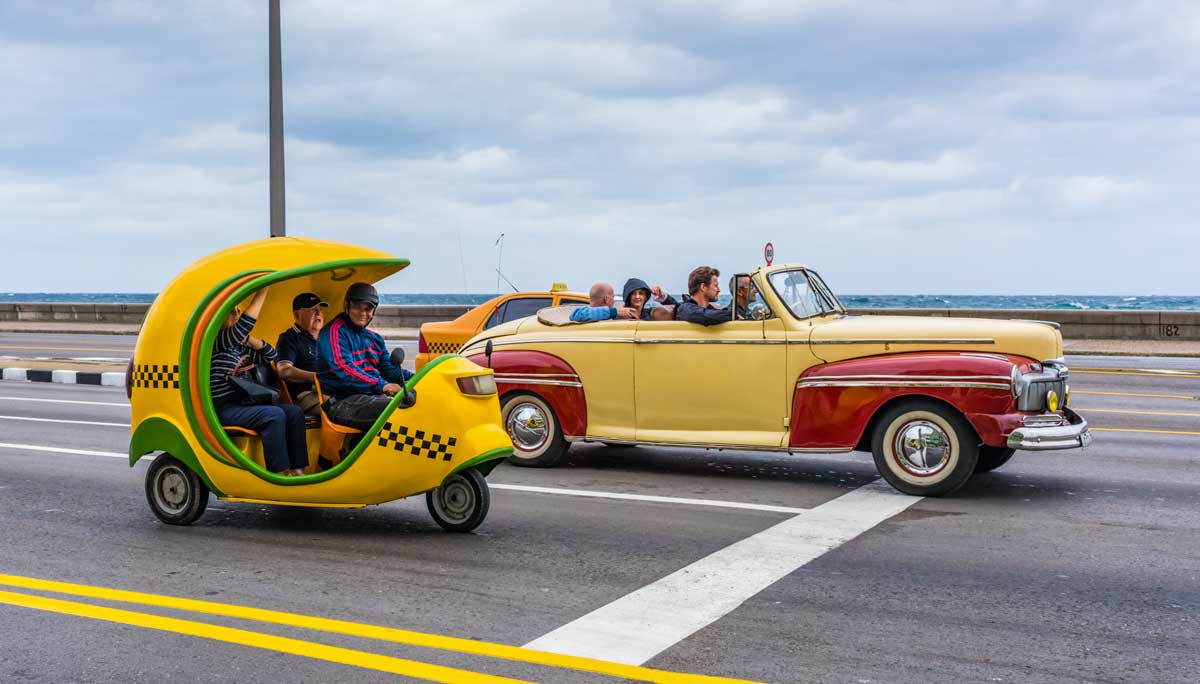 Traffic on the malecon in Havana
Photo: Shutterstock
Rent a car in Cuba
For the most reliable car rental, you can visit the official Transtur website or any of their offices around the country to set aside a vehicle for your arrival. Prices tend to range from US $40 on the economic side to US $225 for premium service - although these prices may vary depending on the season. So, you should be looking at an average cost of US $70 per day.
As in most countries, your cost may go up if you request features like auto-theft insurance or if someone besides yourself will be driving the car. Important to note: ask your Transtur agent for any available automobiles with special gas station service included. There are gas stations in Cuba that only serve rental cars, so that's a plus.
Pro tips for car rentals: 
1. Keep a physical paper map with you at all times, as many little-traveled roads may lack names or signs to lead the way, and internet access can drop in remote locations at any time.
2. You should avoid traveling at high speeds due to the poor condition of national highways and roads, especially during rainfall. It's easy to lose control with all of the slippery puddles from the uneven road.
3. For the latter reason, try to avoid traveling at night.
4. Try to fill up your gas tank whenever you can. Gas stations are scarce, and so is auto service if something were to occur.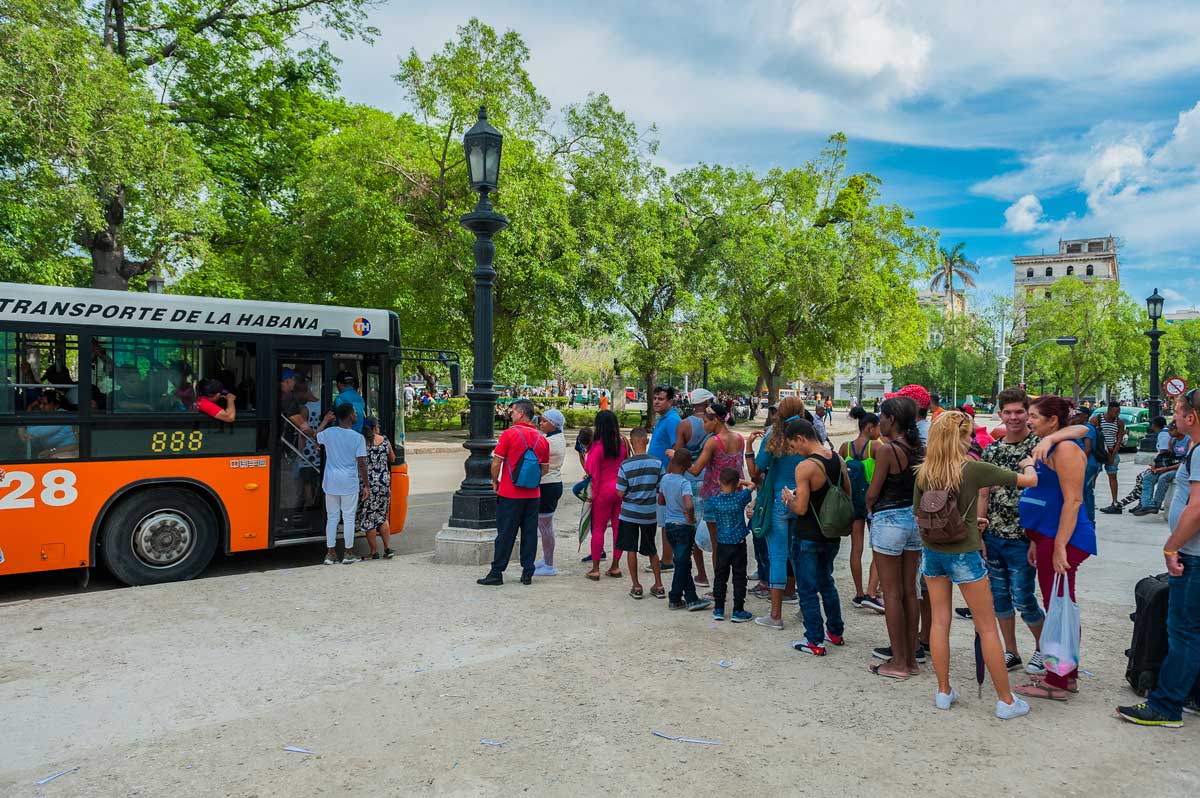 People waiting in line for a public bus, Havana
Photo: Shutterstock
Public Transportation in Cuba
Using public transportation in Cuba can become an everyday odyssey for locals. This is because the national bus network, even in the populous city of Havana, isn't enough to provide transport for all citizens. Which means long waiting times and crammed buses. Even so, learning how public transport works is crucial because you never know when you might need it, and the cost is just cents to the dollar.
If you'll be staying in the Havana area, it would be wise to download the free Habana Trans App, which will provide you with all the urban bus schedules, and where each bus passes through.
Alternative ways to get around in Cuba
One of the fascinating ways to travel in Cuba on a local level is by hiring a trusted private taxi. You'll often have the chance to hire a driver with a classic 1950s vintage car (the famed "almendrones"), which can come out to be cheaper than renting or taking a Yellow Urban Taxi in Cuba. Plus, you'll also be rolling in style with the option of going through neighborhoods and interprovincial regions that Viazul doesn't cover - like a trip to the beach.
Ironically enough, the same car rental agencies can put you in contact with a private driver with no problem. Also, if you are staying at a hotel, surely a staff member knows a guy that knows a guy who happens to be a private taxi.
Note: In larger cities, you will also see some beautiful Classic cars in Cuba that double as taxis, typically serving Cubans. It would be wise to hire a recommended driver, because even though the rides are hot, so are their prices.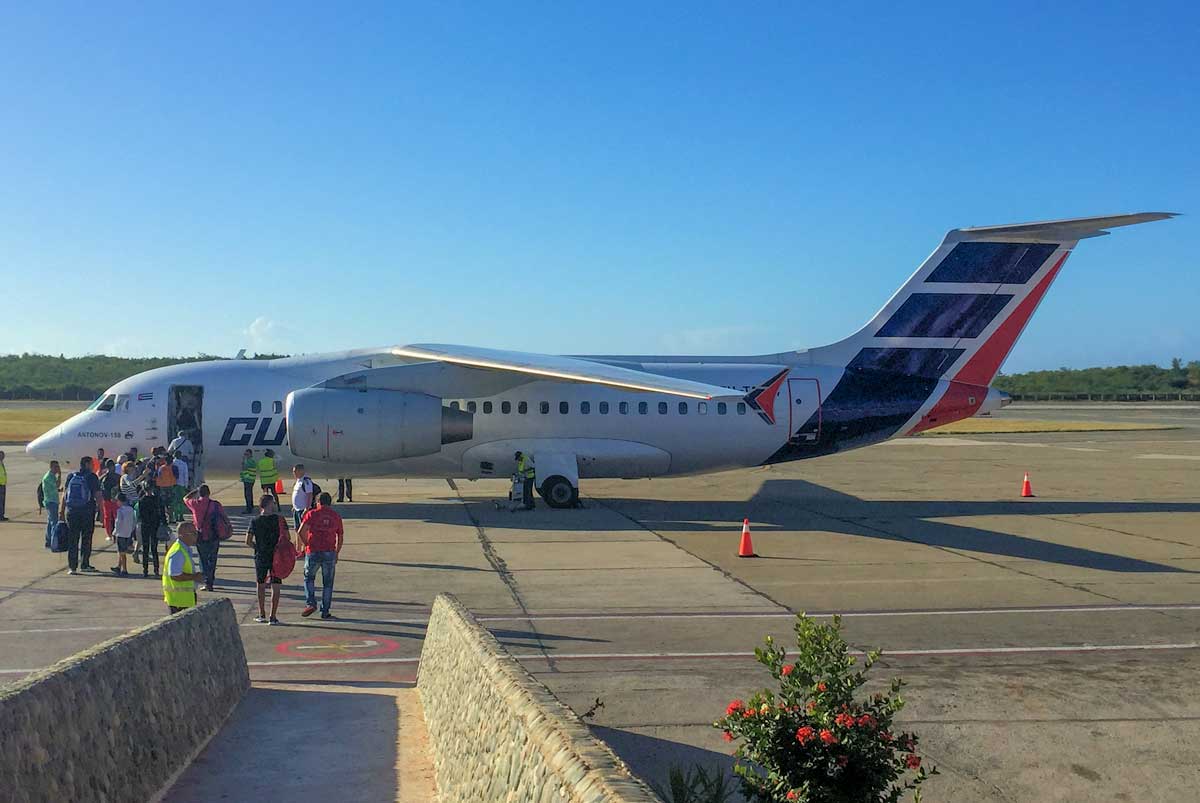 Domestic airplane at Santiago de Cuba airport
Photo: Shutterstock
Traveling by air in Cuba
If you want to cut those long trips even shorter, you can fly to your destination with Cuba's national airline Cubana de Aviacion. For example, flights from Havana to Santiago de Cuba can be affordable, ranging from US $135 one way or US $270 return. Already in Cuba? For information, you can locate any of the Cubana de Aviacion offices near you.
Written by Javier Montenegro.
Published December 2022.
Explore Top Destinations in Cuba
Subscribe to our newsletter
Get more travel inspiration, tips and exclusive offers sent straight to your inbox